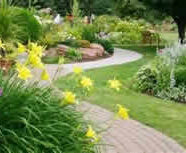 Trust Creative Irrigation for your sprinkler repair and maintenance needs.  Service programs include winterization, spring start-up and mid-season adjustments to properly maintain your irrigation system.
Our service department carries all major brands of irrigation equipment, including Hunter, Rainbird, Toro, Netafim and more.  Whether we originally installed your irrigation system or not; our service professionals can handle all your sprinkler system repair and maintenance needs.   From repairing a sprinkler head or valve, to installing a remote control or sensor, to renovating an existing irrigation system; we will quickly and professionally serve your needs.
Same-day emergency sprinkler repair services are available during business hours.  Call our office at 631.467.6699 during business hours  and we will deploy our nearest service technician.
Creative Irrigation offers three service programs to properly maintain your irrigation system. Our programs range from one to three visits per year.
Winterization Service Program
We will send a professional technician to purge any water from the sprinkler components and pipes to prevent freezing and perform a proper shut down of your system.  Learn more about our winterization service here.
Spring Start-Up
We will send a professional technician to correctly turn your system on and check for any damage that may have been caused by ground freezing and thawing. Creative Irrigation will adjust your heads for proper coverage and flow and program the irrigation controller for the new watering season.  Learn more about our spring start-up service here.
Mid Season Adjustments
We are aware that no two systems are alike, which is why our Mid Season Adjustment program will be specifically suited to your lawn and landscape needs.  As the seasons change, it becomes necessary to adjust the water timer and frequencies to avoid over or under watering due to temperature changes and varying weather conditions. During the summer, we will check and adjust your sprinkler heads, sprinkler pipe and drip irrigation for plant growth and other landscape changes and to ensure they are operating.