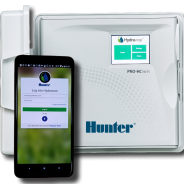 Creative Irrigation of Long Island is pleased to offer Hydrawise, the Smart Wi-Fi Irrigation Control System by Hunter.  With the Hydrawise app, you have instant control and in-depth knowledge of your system and water usage. 
One of the things we love most about this system is it's Predictive Watering™.  Watering of your lawn is automatically adjusted based on local weather data.  This can reportedly lead to up to 50% savings from irrigation system water costs, in addition to making sure you don't overwater and damage your lawn.
As if that's not enough to make this a must-have, here are a few more great features of Hydrawise:
read more
The MP Rotator nozzle by Hunter is a revolutionary enhancement in lawn irrigation; helping homeowners like you achieve healthier landscape growth while reducing water usage by up to 30%.  You can elect MP Rotators when installing a new system, and they can easily be retro-fitted to an existing system. The key is the unique multiple rotating streams that deliver water with a steady, slower application. This allows water to gently seep into the soil with even distribution and prevents pockets of overwatering often found with single spray stream nozzles.  Rather than simply spraying water onto landscapes, the MP Rotator delivers streams of water at a slower rate that soils can absorb, significantly reducing runoff. This high-efficiency nozzle can achieve a radius of up to 35 feet and an arc from 45-360 degrees. Other great features of the MP Rotator include: Double pop nozzle provides superior protection from dirt and debris Adjustable arc and radius Wind-resistant multi-stream technology Low precipitation rate- avoids runoff, saves water and prevents erosion Uniform distribution-  Each stream targets specific areas for higher efficiency and even coverage Contact us today to discuss enhancing the performance and efficiency of your current system by switching to the MP Rotator nozzle.  Looking for a new system installation or renovation?  Contact us for a free estimate and indicate your preference for the MP Rotator.  You'll be glad you did!...
read more
Winterizing your irrigation system when living in the northeast is a must, unless you like playing Russian roulette  (which we doubt you do).   If you don't have proper winterization service performed, maybe you'll get through the winter with out any damage to your system.  But chances are you won't. The cost of having the water removed and your system shut down is a minor investment to protect the lines, heads, valves, manifold and outside plumbing that make up your system. It's important that you use a qualified, licensed and insured company to service and winterize your system.  If the proper equipment is not used, or the service is not done properly, it could cost you hundreds (if not thousands) of dollars in repair when your system is turned back on in spring.  That "deal" you got in the fall to have your system blown out won't be such a good deal after all, and the person that did the work is long gone. Here are a few things to look for when having your sprinkler system winterized: Is the compressor being used large enough to blow out all the water in the irrigation lines? Have all outdoor pumps been removed and stored inside? Have all the drain plugs been removed? Have all irrigation controllers been disconnected from the power source? Have all the main shutoff valves to the irrigation system been checked and properly turned off? Be sure to tell your contractor if you have any hose outlets connected to your irrigation system.  They will need to be opened and blown out (things like pool fills, showers, sinks, outside bathrooms etc. could be connected) Following these guidelines will help ensure your sprinkler system, and all connections, are properly shut down for the winter and help prevent any major repairs in the spring due to improper winterizing. To ensure that your irrigation system is properly winterized and shut down, call Creative Irrigation at 631-467-6699.  Limited Time Winterization Special- Only $10 Per Zone! This offer is valid for new customers only, with a minimum of three zones.  For more than six zones, call us for special...
read more
Is a sprinkler remote right for you? These days, the control of your sprinkler system doesn't have to be limited to just the time clock.  In most cases, the time clock is located in a less than convienent location.  With a sprinkler remote; just the touch of a button on a small hand held remote can completely control your irrigation system.  A remote allows you to turn zones on and off from just about anywhere on your property or inside your house.  If you are walking your property and notice an area that needs some extra watering, no need to go back and forth.  Turn that zone on right from where you are, with a click of the remote. A remote is ideal for your sprinkler system whether you are an avid gardener, you take great pride in the beauty of your yard or just like to give your lawn or flowers extra water on hot days.  Remotes save you time, aggravation and energy.  The days of going up and down the basement stairs or walking back and forth to the garage could be over.  We know that convenience is a luxury we all desire, so we are offering a FREE Hunter ROAM remote system with all new irrigation system installations of at least 10 zones or more.  The Hunter ROAM remote is top-quality, and gives you control at distances of up to 1,000 feet.  Call us for details at 631-467-6699 or request a free, no obligation estimate...
read more
I have an interesting new offer for my customers, that I guarantee will save you over 30% of the water you currently use for your sprinklers.  I'm offering to "virtually" come to your house, and tweak your sprinkler timers every night…personally, myself.  Think about the savings.  Almost every aspect of my irrigation business is run based on the weather.  I fanatically follow conditions closely to schedule our jobs and service to maximize efficiency and minimize damage to your lawns and messy clean-ups.  I live and die by correctly reacting to the weather, scheduling jobs and moving equipment.   I know turf grass, it's wants and needs, and I know when it needs water or when it's healthy and lush.   Don't you think that being intimate with these two details, weather and turf conditions, that if I adjusted your timer every night, after watching conditions so closely, that I could turn down your times in cooler weather, or even skip a day if it rained enough two days ago?  What about cloudy days..with less solar intensity, the grass blade uses less water, I know that I could adjust for cloudy days. Think of the daily savings over an entire year!!  I also could cover for you if you were away.  If we had several above normal hot days, I would show up and add some time to get extra water if needed.  Sound good?  In the early Fall, I would start ramping down your watering in anticipation of cooler conditions, and virtually eliminate water when the lawns didn't need it any more, long before we actually winterize the system.  I'll bet your thinking about what I'd have to charge, with gas and of course my time, to provide this service to my customers.  I would probably have to charge too much to personally preform this service.  I am offering a trial installation for an amazing new Smart addition to our very professional Hunter Irrigation Timers called the Hunter Solar Sync.  It attaches to your existing timer and through sensors and a historical data-base (adjusted to our local region) it monitors the daily conditions and adjusts the watering times by percentage every single night before your watering cycle, automatically, without any prompts or any input from you.  Quite simply, it will follow the date, and based on temperature, solar intensity and rain, it will add or subtract minutes to each zone, or cancel watering if necessary.  It will work to react to conditions exactly as if I was there, changing the timers myself. Interested in getting in on this limited offer?  Call me to set up a demo, and the cost is less than a dollar a day for ONE year.  If your happy with the product and water savings at the end of the season,  you keep the Solar Sync, and it works for you for years to come.  If you are not happy, we will remove it, and replace it with a standard rain shut off device, and you can go back to adjusting your timer when you want. Approximately 30% of your water bill saved every year for the next 12 years or so, for a one-time charge of less than $350.00.  Sound like a good investment??  I look forward to hearing from my interested...
read more
The old saying "you get what you pay for"  can hold true for contractors, home improvements and irrigation companies alike.  It's important to find good value when looking for an irrigation contractor, and value takes into consideration the worth of what you are receiving for the cost.  In order to get the cheapest price possible, you may end up sacrificing quality, experience and service; which could potentially end up costing more in the long run.  Competitive pricing is important, but there are many things you should consider in addition to price. In addition to comparing cost estimates, and side-by-side details of what that quote covers; here are some things to look for when evaluating irrigation contractors: How long have they been in business? Are they licensed to work on irrigation systems in your town? Do they carry the necessary insurance? What is their Better Business Bureau rating and how is their record? Are they a BBB Accredited Business? How is their online reputation?  Do they have good reviews and good word of mouth? Can they provide references? How much experience do the service technicians have? Do they install, service and repair systems?  Do they work with all major brands of irrigation equipment? Do you get a knowledgeable staff member on the phone, or do you always have to leave a message? How long do you have to wait to get an appointment? Do they offer business hours that fit within your schedule (i.e. are the Saturday hours)? What type of warranty do they offer? Once you have done your research and narrowed your choice down to a few Long Island irrigation specialists, you may be ready to call and request an estimate for your sprinkler installation.  Estimates should be done in good faith, with no charge or obligation.  There are many factors you will want to look for when you invite a contractor to your home to evaluate and provide an estimate.  When comparing experiences between contractors while providing estimates for a new sprinkler system installation, look for these things: Did your estimator show up on time? Did the estimator do a complete custom design plan for your irrigation system, showing where and how your sprinkler system will cover your lawn's watering needs? Did they walk the property with you and show you different options for ways to water your flowers, shrubs and lawn before creating the custom design? A knowledgeable estimator will recognize areas on your property that may need special attention.  Examples include keeping water out of children's' play areas, creating separate zones for shady areas needing less water or installing a customized drip system for your box garden, vegetable garden or rose garden. Did they explain the options for irrigation controllers and the many different features that are available? When the estimator is finished, you should have a complete understanding of how your new irrigation system will be designed, where zones will be located and how it will work. At Creative Irrigation, we have been serving Long Island for over 30 years and are very proud of the reputation we have built.  We have life-long clients throughout Long Island that eagerly recommend us to friends and family, and we think there is no better form of flattery!  We are licensed and insured, and a BBB...
read more
At Creative Irrigation, one of the common questions we hear from customers is when and how much they should water their lawn once the summer months start to heat up.How often you need to water your lawn depends on several factors including weather conditions, grass type, type of soil (such as clay or sand), sun and shade conditions within your lawn as well as your landscaping (presence and distribution of trees, shrubs, flowers etc). Here are some general guidelines we recommend. Typically, the best time to use your irrigation system is during the early morning hours.  For the best results, try to complete your watering by 9 am.  Watering your lawn any later than this increases the evaporation rate and as a result, much of your lawn's water will turn into evaporation instead of feeding your soil.  Your watering attempts will be less effective, your lawn can dry out despite running your irrigation system and you will waste precious water and can unnecessarily increase water bills. We know it can sometimes be difficult to do a complete watering of your entire lawn in early morning due to the size of your property and how many zones you have.  A way to work around this is to water half the property on one day and then water the other half the next day.  This tactic works well for large properties. Flowers need to be watered more often than lawns due to their shallow root systems.  Most irrigation controllers today have the capability to set up multiple watering programs so you can control how much and how often specific areas receive water.   For example, you can program your system to water your flower zones twice a day, water your general lawn every other day, and water your shrub areas once a week.  If watering flower zones twice a day, plan the first watering in the early morning and the second in the evening as the sun is beginning to set. A custom designed irrigation system by Creative Irrigation can help you effectively maintain your lawn while meeting the unique needs of your landscaping; keeping your lawn and gardens looking beautiful even in the most extreme weather...
read more
Creative Irrigation installs booster pumps at the time of  irrigation system design and install; as well as installing onto pre-existing systems.  So, what is a booster pump and why would you need one? A booster pump will increase, or "boost" the water pressure of your sprinkler system.  The need for a booster pump  depends on several factors; including they type of irrigation system, the size of your lawn, design of landscaping, location of water pipes, pressure needed to efficiently and effectively irrigate your lawn and the water pressure provided by your water line. Some Long Island areas have lower water pressure and residents will need a booster pump installed with their irrigation system for it to work to the fullest.  In cases of pre-existing older irrigation systems, they may not have had good water pressure to begin with at time of installation, and need a booster pump installed after the fact.  For example, say your irrigation systems needs 85 PSI of pressure to operate, but the water line coming into your property only has 60 PSI of pressure.  You would need to have a booster pump installed to increase the pressure from 60 to 85 for your sprinkler system. Booster pumps are installed on the main water line coming into the home.  When the irrigation timer turns on a zone, it turns on the booster pump as well.  The pump pulls the water from the street and pushes the water into the irrigation system at a higher volume and pressure than the main water line alone.  The increased pressure created by the booster pump improves the spray distance and performance of the sprinkler heads allowing for better coverage. For more information on booster pumps and your individual needs, contact us at Creative Irrigation Long Island.  We will evaluate your pressure and watering needs and install the best pump for your system. Share ...
read more
At Creative Irrigation, custom design and installation of new irrigation systems is not our only specialization.  We also do a lot of work for homeowners needing to renovate existing irrigation systems.   There are many times when renovating, or adding to, an existing sprinkler becomes necessary and is more beneficial to the homeowner than digging up the old system and installing in a completely new irrigation system.  Renovations to existing sprinkler systems can involve adding additional zones, moving lines to accommodate for construction or additions, updating old equipment, or incorporating micro drip irrigation areas to protect new landscaping. There are several reasons why you may need a professional irrigation contractor to provide a consultation to renovate or redesign an existing system; here are a few: Updating equipment and adding efficiency Installing a new swimming pool Adding a new fence or moving an existing fence Adding an extension to your home Building a new deck or porch Widening a driveway or adding new walkways New landscaping Addition of a garden Replacing a cess pool Fixing poor coverage of an existing system Upgrading system with rain/freeze sensors and automatic timers Adding a booster pump to increase water pressure If you are making changes to your home or landscape, need better coverage for your lawn or your irrigation system is in need of updating; call us at Creative Irrigation Long Island for a free consultation and...
read more
The Correlation Between Lawn Watering and Fungus Dollar Spot is a common fungus found attacking Long Island lawns from late spring to early fall.  Proper water management is key in helping to prevent dollar spot. The fungus starts as a small, light brown spot approximately four inches in size.  If not properly taken care of, it can spread and grow to large, irregular patches up to twelve feet wide. In many cases, homeowners think the spots are caused by lack of water, so they increase lawn watering.  To their dismay, this actually increases the spread of dollar spot. In most cases, grass blades would require 14 hours, or more, of moisture in order for turf disease organisms to cause a problem.  To prevent your lawn from receiving too much moisture, we recommend programming your irrigation controller to water between the hours of 1 am and 7 am. Early morning watering helps remove dew and plant exudates from the leaf surface.  This will help reduce the incidence, and spread, of dollar spot. If you water during daylight hours, allow the grass to dry from overnight moisture for at least one hour before watering.  If you water in the late afternoon, allow the blades of grass to dry completely before night fall. Using chemical control at the first signs of dollar spot development can be successful.  However, once dollar spot gains a foothold and becomes widespread, chemical management can be...
read more